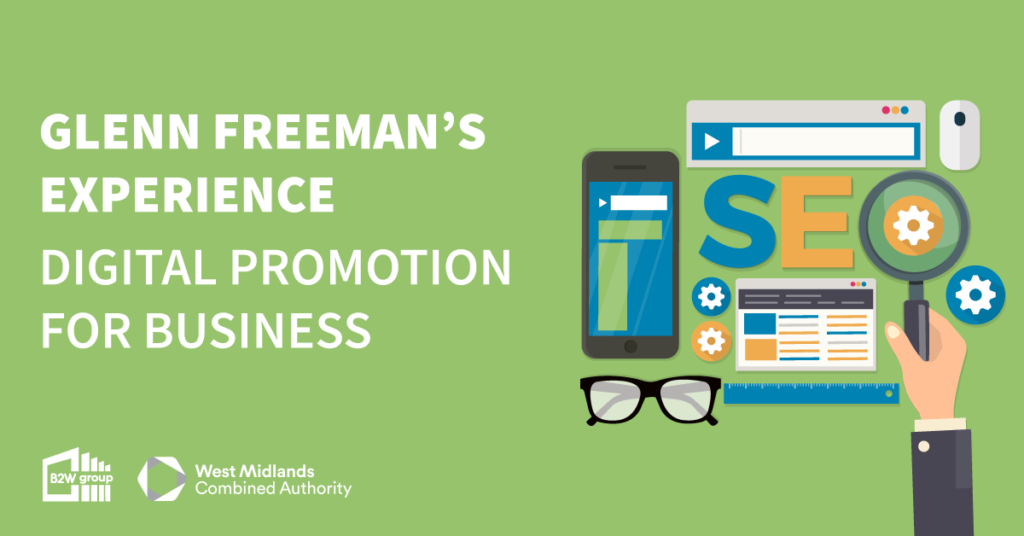 The B2W Group specialises in a diverse scope of distance learning qualifications, which focus on progression within the workplace. These short, online qualifications deliver an extensive range of knowledge which benefits learners within their role, building their confidence and competence.

Glenn Freeman has recently completed the Level 2 Digital Promotion for Business qualification with The B2W Group and has shared his experience.

Level 2 Digital Promotion for Business
As the world progresses to a more digital approach, the digital promotion for business qualification is a practical and detrimental educational route for companies wanting to promote their products and services to a wider audience. This course will provide knowledge and skills in advertising your business through online techniques such as SEO (search engine optimisation), social media management and creating engaging content online.

Glenn's Experience
Glenn Freeman, Website Designer at Niche Web Services in the West Midlands, first expressed interest in this course as he wanted to expand his knowledge in the subject.

Niche Web Services offers website design, website hosting and SEO services. Having knowledge in promoting businesses online and effective SEO allows him to ensure that customers are able to get the most out of their online presence. SEO is an important factor to consider when building a company website. It ensures you are being found online by the right people. Additionally, completing this course enabled Glenn to stay up to date with emergent digital technologies in an ever-changing environment.
What did you enjoy most about this course?
I enjoyed learning about different strategies and technologies involved when advertising your business online. I also enjoyed learning about the different digital platforms that are available to build brand awareness.
What new skills and knowledge have you learned?
During my time on the course, I have built my ability to analyse data. This has allowed me to look deeper into how things are performing and create action plans to reach or exceed my goals in future. Additionally, I have also learned more about using social media for business to reach and engage with my target audience.
Did you find that the course has met your expectations?
Yes absolutely. The course content and structure was clearly laid out, making it easy to understand. I also found that the course was challenging enough. I already had some knowledge when I started the qualification, but I didn't realise that there was so much more to learn and understand.

How has this course helped you progress in the workplace?
After completing the course, I now understand digital promotion in a lot more detail. I am able to analyse data and improve on past and future projects. This allows me to ensure that I am getting even better results.

Would you recommend us to others?
Yes, I would recommend The B2W Group and the distance learning courses they offer to others. My course tutor was always there to support me throughout the course, whenever I needed help. The B2W Group provided great customer service. 
---
Level 2 Digital Promotion for Business
This online qualification has been designed alongside industry professionals to ensure that learners gain up-to-date and relevant knowledge and skills to achieve online exposure for their business. It provides a great opportunity for those wanting to improve digital promotion in a real business situation, or as a foundation for further learning in subjects such as marketing, business, ICT or media.

The B2W Group offers this level 2 qualification to employed residents of the West Midlands area. It is fully funded and comes at no cost to the learner or business. You can find out more or apply through our website
---
Read more from our learners