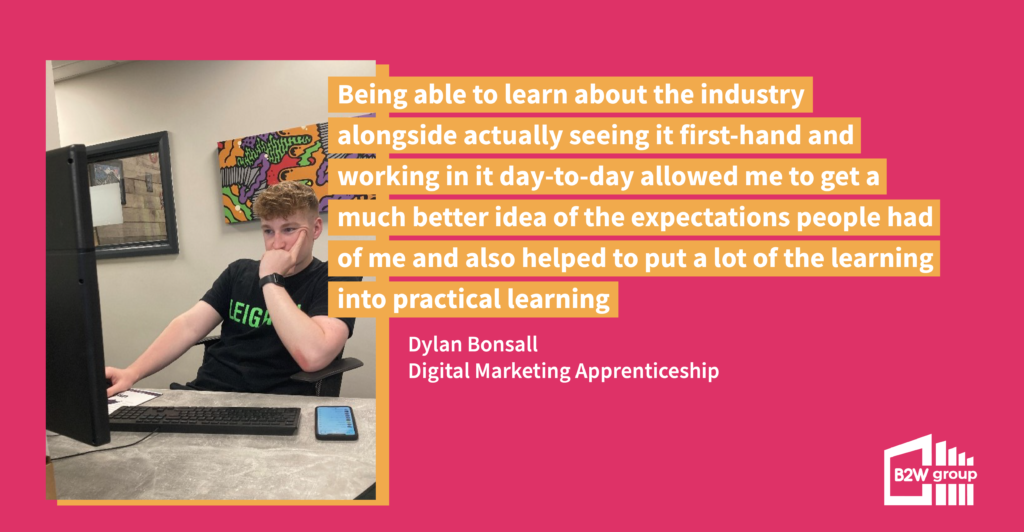 At The B2W Group we focus on empowering people with the knowledge, skills and confidence to develop their careers. We want learners to succeed and progress within their careers. We caught up with Dylan, who recently completed his Level 3 Digital Marketing Apprenticeship.
"I'm Dylan, I'm 19 years old and I work at Leighton Vans Ltd as a Digital Marketing Assistant.
"I've worked here since August 2019 and I passed my apprenticeship in April 2021. At Leighton Vans we customise and sell vans, also offering them on long or short leases/rentals and selling the parts we fit on our newly-released parts e-commerce website. I chose B2W because they were a local company who specialised in the job I was looking for. They're a reputable company and helped me to find this apprenticeship just a couple weeks after I first approached them."
At The B2W Group, we support our learners and encourage them to complete real-world projects that make a real difference to the business they are working with. Here is what Dylan had to say about his projects:
"Throughout the course of my apprenticeship I've been involved in projects such as the website launch, the planning of events like open evenings, and even had the challenge of managing the company's digital channels from home during the first lockdown. I enjoy the content side of being a Digital Marketer the most. Photography and graphic design are two things I love to do most so being able to incorporate these into my job makes me enjoy it a lot more."
To be a successful digital marketer, specific creative and analytical skills are needed. These all make up the qualities of a great digital marketer and are all part of the training that The B2W Group provide. Dylan has demonstrated these traits throughout his apprenticeship, which have in-turn helped him to secure a full-time role with Leighton Vans Ltd.
"I would recommend an apprenticeship to people, solely down to the fact you're gaining qualifications while also getting real-world, hands-on experience in that job role. Being able to learn about the industry alongside actually seeing it first-hand and working in it day-to-day allowed me to get a much better idea of the expectations people had of me and also helped to put a lot of the learning into practical learning."
Dylan's manager was incredibly pleased with his work which resulted in a full-time position with Leighton Vans Ltd.
"Having Dylan as part of the team has been a real advantage to the business over the last two years. The full process has been well organised, and it has been easy to fit his training days around the job. The education and learning hours allowed Dylan to develop his knowledge in key marketing areas meaning he was then able to support the business with projects and planning, whilst bringing new learning into the team. All in all, it was a very easy and valuable experience for all at Leighton Vans."
To kick-start your digital marketing career and progress on to a Level 3 Apprenticeship visit our website to learn more about about our Digital Foundation course – https://b2wgroup.com/digital-foundation/
 Or for a taster session in the world of digital marketing, check out our Digital Bytesize course which exposes you to the basics of digital marketing, while also giving you on-the-job experience – https://b2wgroup.com/digital-bytesize/
Learn more about our Digital marketing level 3 Apprenticeship here – https://b2wgroup.com/digital-marketer/