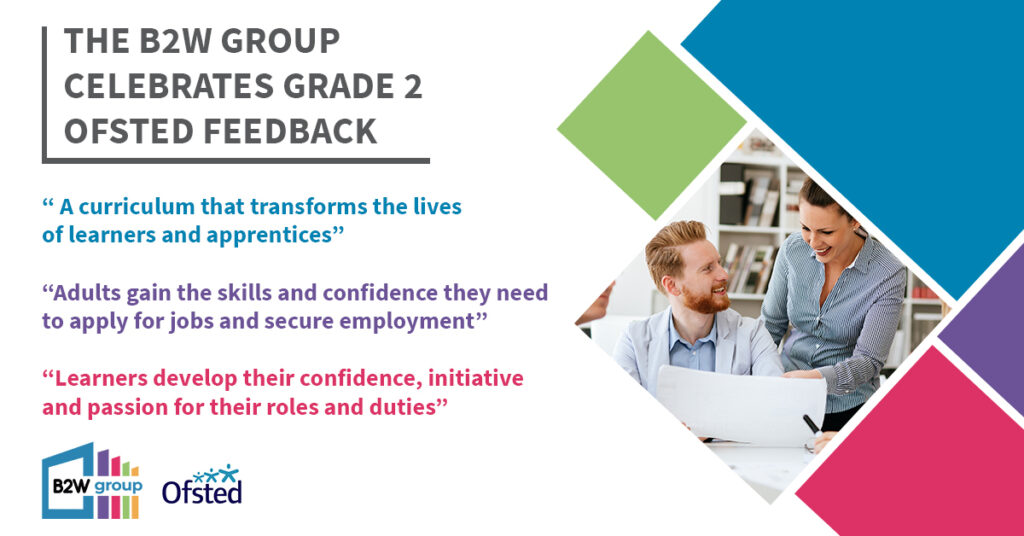 The B2W Group celebrates Grade 2 (Good) Ofsted feedback with a curriculum that "transforms lives".
The B2W Group has received a Grade 2 (Good) in its first full inspection under Ofsted's Education Inspection Framework (EIF) September 2021. The report highlights that "the ambitious curriculum transforms the lives of learners and apprentices."
Ofsted grade providers at inspection:
Grade 1: Outstanding
Grade 2: Good
Grade 3: Requires Improvement
Grade 4: Inadequate
From 21st – 24th September 2021, Ofsted visited for their inspection with the sole objective to identify "What is it like to be a learner at The B2W Group?" The inspection commenced with in-depth discussions with leaders and managers about the provider's curriculum to establish the intent of the curriculum. Inspectors carried out a range of inspection activities, grouped into focused curriculum reviews, known as 'deep dives'.
The B2W Group's report states:
Quality of education – Good
Leadership and management – Good
Personal development – Good
Behaviours and attitudes – Good
Adult Learning – Good
Apprenticeships – Good
Luke Muscat, Managing Director, commented:
"I am extremely proud of the whole organisation and all of our colleagues. It is amazing to have formal recognition for the quality of services that we provide for our learners.
"We're focused on empowering people with the knowledge, skills and confidence to develop their careers and as we continue to grow, it's the support and commitment of our great employees that will ensure we deliver quality provision across all areas."
Alison Dann, Director of Quality and Performance commented:
"The inspection ran effectively as a result of the continued quality focus The B2W Group place on our learners and ensuring they receive the highest level of quality education possible."
Report Highlights:
Quality of Education
"Tutors identify learners' and apprentices' previous knowledge effectively to match them to courses based on their prior experience and career aspirations. Tutors provide useful and supportive feedback that helps most learners to improve the quality of their work. Tutors ensure learners and apprentices develop the employability skills they need for work. Tutors use their expert knowledge of their subject area, for example in construction, warehousing and digital marketing, to develop the curriculum.
"They plan their teaching and training in a logical order. This helps learners and apprentices to gain the knowledge and skills needed to gain qualifications to enter the job market or gain promotion.
"The ambitious curriculum transforms the lives of learners and apprentices. Learners and apprentices benefit from a calm and inclusive learning environment. Tutors value learners' and apprentices' contributions and ensure that they all take part in sessions and learn. Learners and apprentices demonstrate high levels of respect for their tutors and peers and work collaboratively."
On The B2W Group's Pre-Employment Training provision: "Unemployed adults gain the skills and confidence they need to apply for jobs and secure employment. They develop strategies to improve their resilience. Learners on pre-employment and traineeship programmes complete mock interviews and online assessments that help them prepare for job recruitment processes."
On The B2W Group's Apprenticeship and digital offerings for young people: "Apprentices are keen and ambitious. They develop in confidence, use their initiative and work independently. This results in them taking on more responsibility at work.
"Apprentices benefit from a blend of on- and off-the-job training that meets apprenticeship requirements. They receive effective support, advice and guidance from their workplace mentors and supervisors. This helps apprentices to apply their developing knowledge in context. They develop their confidence, initiative and passion for their roles and duties."
Safeguarding
Safeguarding is effective "Governors and senior leaders place a high priority on keeping learners and apprentices safe. Staff clearly understand their responsibilities to safeguard learners and apprentices. Designated safeguarding leads are appropriately trained. They manage and resolve disclosures diligently. Leads use links to external agencies to help learners and apprentices access additional help, such as counselling."
About The B2W Group
The B2W Group provide professional training, coaching and recruitment services to suit the needs of a range of employers and individuals. Founded in 2011, The B2W Group has trained and supported tens of thousands of people throughout the UK into a variety of businesses, both large and small.
---
Media / Press enquiries:
Neil Baker, Marketing Campaign Manager