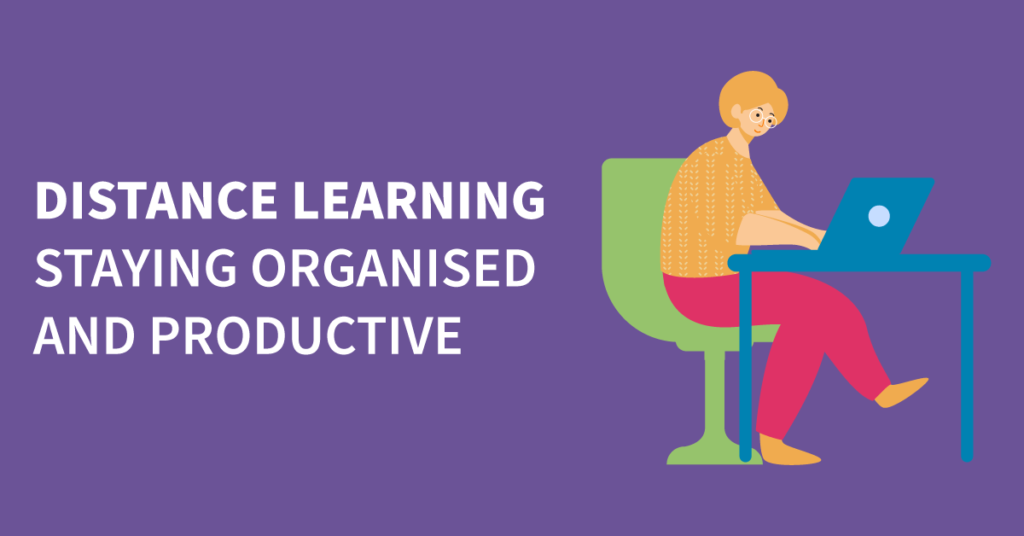 Learning from the comfort of your home can bring many distractions. When in a classroom-based environment, you are fully focused on the lesson and don't need to worry about disturbances from the people and things around you.

Becoming immersed and organised in your online learning environment can be achieved very easily. Once achieved, you'll find that this way of learning can be a lot more beneficial, allowing you to learn at your own pace with no need to adapt to the learning style of others around you.

Staying Organised and Productive With E-Learning
If you're struggling to stay organised and productive during e-learning, or the thought of an online course is daunting to you, here's what you can do.

Set up an Effective Working Space
If you want to keep yourself engaged in your course, a tidy and organised workplace is vital. Clutter will only distract you from your learning. A clean workspace will keep your mind stress free and boost your productivity. Also keep your work space in a quiet area without distractions.

You should also make sure your equipment is set up correctly and you are comfortable whilst learning. This includes adjusting your chair and making sure your screen level is set at the correct height –  https://www.nhs.uk/live-well/healthy-body/how-to-sit-correctly/. As you will be spending a lot of time at your screen, this will help to prevent eye strain and uncomfort. 


Make a Schedule and Stick to it
If you want to stay on top of your work, you need to make a routine and stick to it. Other commitments such as work and personal life can become hectic, so setting time aside and sticking to a learning schedule can prevent you from becoming overwhelmed. Dedicate a few hours a day or a day a week that you will progress on your course. Once you have made a schedule, set reminders on your phone or computer so that you don't forget.

Turn Off Your Devices
With your phone or tablet turned on next to you, you will be more tempted to check your notifications or browse social media. Keeping it away and switched off will stop you from checking it every few minutes. An hour away from your phone can do wonders for staying productive.
Bookmarking Resources
To save time, ensure that you bookmark important resources so that you can refer back to them when you need to. There's nothing worse than having to spend your time trying to find an article or website that you were on the day before.

Organise Your Files
For any work that you have completed, keep it organised in a folder that is easy to find. You can even have different folders for each unit or topic you complete and keep your work with useful resources that you have saved offline. Again, this will save you time and also prevent you from losing your work.

Create a Task List
If you create a task list, you can track your progress and see what you need to do. Tracking your progress will show your success so far, and give you a sense of pride. You will stay determined to completing the course. It will also make sure you don't miss any important steps.

You can do this however you prefer, whether it be with a notebook or an online free task management tool such as Trello or Asana.
Take Regular Breaks
Regular breaks can increase your performance. Letting your mind relax can help with recovery, returning mental and physical functional systems to their baseline (source). It also boosts your wellbeing and reduces stress that would be created from working too hard (source).

Ask for Help
Your tutor is there to support you during your course. If you are stuck on a question or topic, make sure to ask for help. Trying to figure it out on your own can often last in too much time spent on one area. 
---
Online Courses With The B2W Group
The B2W Group provides fully funded online qualifications to employed residents of the West Midlands area. These recognised qualifications can be completed from the comfort of your own home with the support of an industry professional tutor.

During the short courses, you will have support throughout and can complete units at your own pace. Enrolling on to these courses will give you access to online masterclasses and useful resources to aid you in the completion of the qualification.

We provide courses in a number of key areas, including management & leadership, digital & IT, and construction. If you would like to find out more about what courses we have available, you can visit our Eventbrite page.
Further Reading