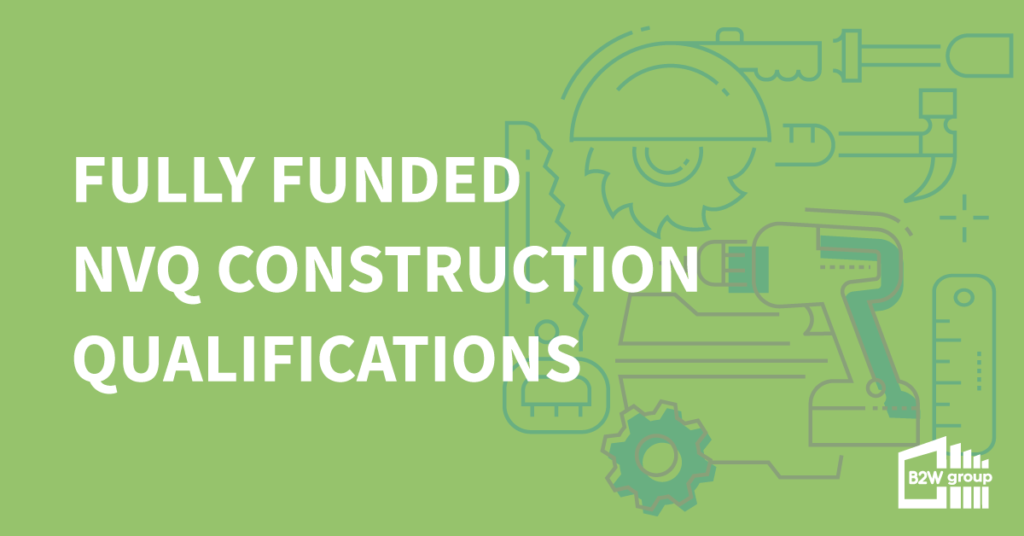 This month we're shining a light on our free Level 2 NVQ Diploma In Wood Occupations and Construction courses.
This occupational qualification is for those who want to progress as a site carpenter, bench joiner, or a shopfitter bench joiner in the construction sector and become a qualified joiner. It is suitable for anyone currently working and involved in joinery on site or providing domestic joinery and will cover first-fix, second-fix and power tools. Upon course and qualification completion you will be able to gain your Blue Skilled Worker CSCS card.
They will prepare you for on-site work, through demonstrating proper etiquette, conforming to health and safety rules (which are very important to adhere to) and also give you an introduction to begin developing the technical skills and hands-on experience you need to be successful on a working site.
Passing our course will also award you with the opportunity to apply for Blue Skilled Worker CSCS card. For the Blue Skilled Worker CSCS Card, you must have passed the relevant CITB Health, Safety & Environment Test for the job role. The Blue CSCS Card is for skilled workers that have completed an employer-sponsored apprenticeship. The Blue Skilled Worker CSCS Card is valid for 5 years.
Aside from the job opportunities, Carpentry is an indispensable skill to have under your belt. The most obvious personal benefit to being skilled in woodwork is the money you could save through essential DIY projects and home repairs – which will allow you to save a reasonable amount of money year-round. This could be an extra source of extra income if you develop the correct competencies.
The government is continuously investing into the construction industry as it is one of the most important pillars of our infrastructure. Holding a qualification in an industry that is always expanding is a good way to secure a safety net – especially given the current unpredictable climate.
Throughout the COVID-19 pandemic, the government have encouraged construction sites to continue to operate in a safe and productive manner. It's testament to the industry that it has been able to do so, and commendable that they have led from the front in adapting to this new way of working.
As well as the higher level of job security, the job satisfaction of creating something tangible and physical can make those grey Monday mornings that little bit more bearable.
It's also worth remembering that being overqualified isn't a negative in construction. Being multi-skilled would make you an invaluable asset to companies of all sizes. Joinery in particular is a great support skill to have, especially in domestic repairs.
I have personally witnessed jobs be doubled (sometimes tripled) in length due to a minor task which I wasn't equipped to complete, holding up progress. Having transferrable skills is becoming more important and being able to tell an employer you have a multi-faceted base of experience can work to demonstrate how capable you are across the board.
There are lessons to be learned from every industry of work which can in-turn help up your success and professional development. The main lessons I took away from half a decade of working in the construction industry are determination and problem-solving skills. These helped me in my transition to working in an office and the drive that got me through digging holes in the rain was more than enough to get me through a rough Monday morning.
Being able to not only contribute to a project but witness its development stage by stage is incredibly rewarding. And, along with the gratification of having tangible results, the construction industry's becoming quite a lucrative and increasingly diverse field.
By completing our Level 2 NVQ Diploma In Wood Occupations and Construction courses, the learner will learn key practical skills and knowledge in these mandatory units:
Conforming to General Health Safety and Welfare in the Workplace, Conforming to Productive Working Practices in the Workplace, Moving, Handling and Storing Resources in the Workplace.
The learner will also learn key practical skills and knowledge in three of the following optional units:
Installing First Fixing Components in the Workplace
Installing Second Fixing Components in the Workplace
Erecting Structural Carcassing Components in the Workplace
Maintaining Non-structural Carpentry Work in the Workplace
Setting Up and Using Transportable Cutting and Shaping Machines in the Workplace
Installing Fire Resisting Timber Door Assemblies and Door sets in the Workplace.
Our funding from the WMCA and the Education & Skills Funding Agency allows us to offer these free NVQ courses to people and businesses in the West Midlands. Sign up below.