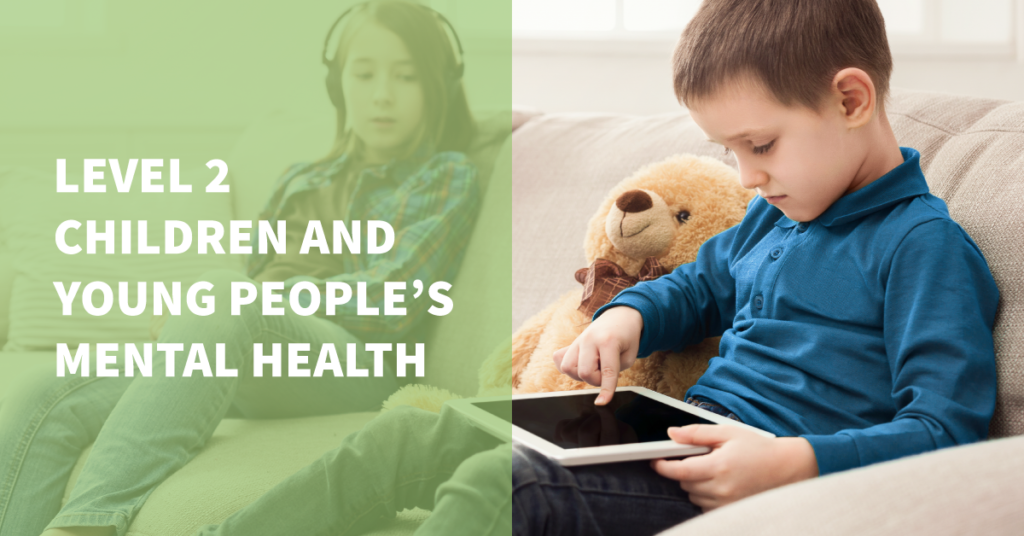 Practicing good mental health awareness is an integral part of maintaining a happy and stable life. Not only for yourself but for others around you. Given the drastic changes in our day-to-day lives, this is proving to be more important than ever. We're isolated from our social networks and distractions are few and far between. This has made practicing and being aware of good mental health, a crucial lifeline. Although it's less prevalent than in the past, there is still a lingering stigma associated with mental health. The real solution to dissolving the stigma has been in educating people in what to recognise and how to act. So, with this in mind and in awareness of Children's Mental Health Week (CMHW), this month we're focusing on our Level 2 Children and Young People's Mental Health course (CYPMH).
"Place2Be launched the first ever Children's Mental Health Week in 2015 to shine a spotlight on the importance of children and young people's mental health. Now in its seventh year, they hope to encourage more people than ever to get involved and spread the word."
The theme of this year's CMHW is Express Yourself. Self-expression can come in many forms and there is no right or wrong way to express yourself. From interpretive dance to just simply saying how you feel – the options are unlimited. Also, with the closures of schools and the extension on restrictions, learning how to be receptive to the subconscious signals which are transmitted through forms of expression is going to help maintain a non-disruptive environment for children and adults alike. A useful approach the difficult subject of mental health is a non-reactionary one. It's easy to allow your emotional connection with family members to cloud your judgement on how is best to help. Wanting to help is definitely a good sign but keep in mind how complex and enigmatic mental health is for everyone. The goal shouldn't extend beyond creating a safe and comfortable environment for people to express their inner selves. Going beyond this and actively trying to incite change within someone (no matter how positive the intentions) can be damaging to not only the person you want to help, but yourself too.
In the current climate, parents and those working with children are all experiencing increased pressures. This Level 2 e-learning course will help you develop an understanding of the concepts, risk factors, and impact of mental health in young people. Mental health problems affect around 1 in 8 children, and in a recent survey of our past learners, we found that parents and education professionals were seeking formal training and qualifications in this area.
Below are the results from a survey we conducted with past learners:
"Due to the impact of Covid-19 on mental health in both adults and children, would you be interested in earning a qualification in a relevant subject area? If so, which subjects would be of interest?"
Awareness of mental health 8%
Children and young people's mental health 31%
Behaviour that challenges 23%
Specific learning difficulties 0%
"The struggles we endure today will be the 'good old days' we laugh about tomorrow."

Aaron Lauritsen
Looking after your mental health
There's no disputing the impact the past year has had on the nation's mental health. Shorter and darker days, home working "guilt" and isolation all play a part. 46% of the learners we surveyed were eager for more training in mental health awareness and management.
With more parents at home, we also found that the most in-demand topic was the mental health of children and young people (31% of people surveyed). Parents who are challenged with working a full-time job while looking after (and sometimes tutoring) their children, are clearly on the lookout for any undue pressures or stress their children are under.
Our Level 2 Children & Young People's Mental Health e-learning course will help you develop an understanding of the concepts, risk factors, and impact of mental health in young people. You will receive a nationally recognised qualification which will demonstrate your competency to your employer while giving you some valuable skills and knowledge in this area. Even better, we can deliver our Distance Learning courses FREE to all employed people living in the West Midlands. This 12-week course can be completed entirely online, from the safety and comfort of your own home.
Despite the difficult and uncomfortable state of the world, people are still here for people, and while it would be incredible if everyone could learn to help themselves and the people around them, we realise that sometimes that isn't as easy as taking one of our Distance Learning courses. So, below is a link to a library of resources provided by the wonderful NHS. From all of us here at B2W, we sincerely hope you're keeping above water and remember – positivity incites positivity.