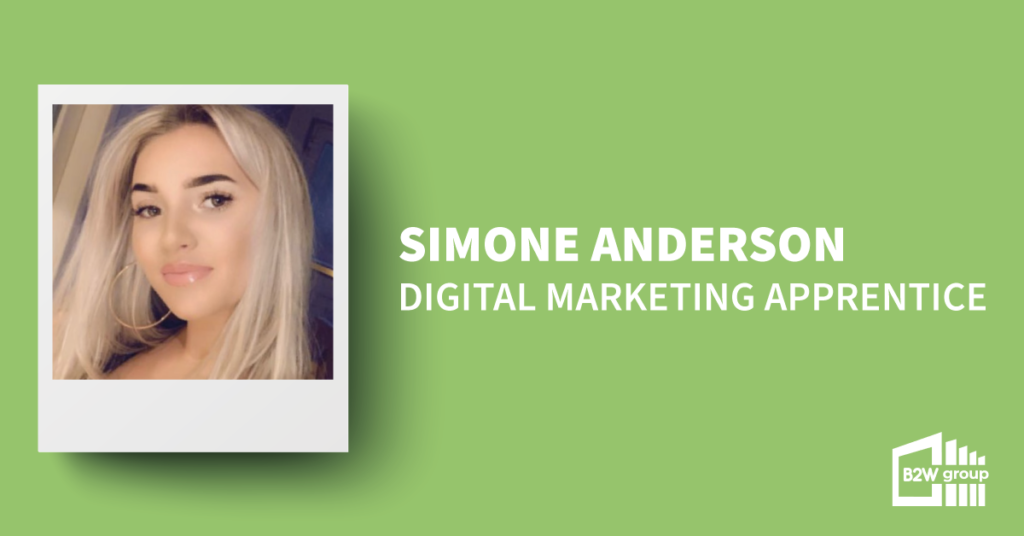 Simone Anderson, a Digital Marketing Apprentice at The B2W Group, is currently working towards the completion of the Level 3 Digital Marketer Apprenticeship. Since starting her digital journey, Simone has dived into key marketing topics such as using social media for business and email marketing.

While at The B2W Group, Simone will be working closely on our Digital Takeaway delivery. The digital takeaway series adopts a new approach to learning through short masterclasses hosted by The B2W Group.

We caught up with Simone to find out about her experience on the programme so far.

Why did you become interested in a career in Digital Marketing?
I initially wasn't sure what I wanted to do so I decided to have a look around and see what apprenticeships were available. Upon doing so, I came across the digital marketing programme. I felt as though I would enjoy the job as I am quite a creative person and enjoy creating different things.
Before going into an apprenticeship, what did you know about digital marketing?
I knew very little before going into the apprenticeship. I knew it was about marketing businesses online on several different platforms.
What responsibilities have you had since starting your apprenticeship?
During my apprenticeship, I have had to set up and build the audience of an Instagram account for a business. I have also had the chance to look at Facebook ads. Additionally, I have created and scheduled emails to be sent out through Mailchimp.
What is your biggest achievement since starting your apprenticeship?
The apprenticeship consists of different knowledge modules that relate to digital marketing including building campaigns, building your online presence, reputation management and data protection. Completing these knowledge modules and gaining more knowledge in all of the subjects has been my biggest achievement.
What do you hope to gain from a digital marketing apprenticeship?
I hope to gain enough knowledge and skills in the apprenticeship to be able to apply this within my role solely on my own.
What are you looking forward to in the future?
I am looking forward to learning and understanding more about how it all works. I am looking forward to creating my own content, content that can be an asset to a business. I'm going to be working on our Digital Takeaway delivery, which should be exciting for the business.
Would you recommend an apprenticeship to others?
I would recommend this apprenticeship. It has helped me find a career path and people and the company itself have been extremely helpful through every stage.
---
Level 3 Digital Marketer Apprenticeship
Our Level 3 Digital Marketer Apprenticeship is an 18-month programme. We deliver this programme in the North West and South Yorkshire areas.
During the apprenticeship, you will spend 20% of your working time completing off-the-job training. The remaining 80% will be in the workplace. The B2W Group offers two pathways for the Digital Marketer Apprenticeship, meaning you can decide what knowledge and skills you want to learn. If you'd like to know more about our apprenticeship programme, please visit our Digital Marketer page.
Hiring an apprentice
Apprenticeships provide great benefits for employers, including bringing fresh ideas into the workplace and increasing employee retention and loyalty. If you'd like to hire an apprentice, you can find out more about how The B2W Group can help here.
---
Read more from our learners