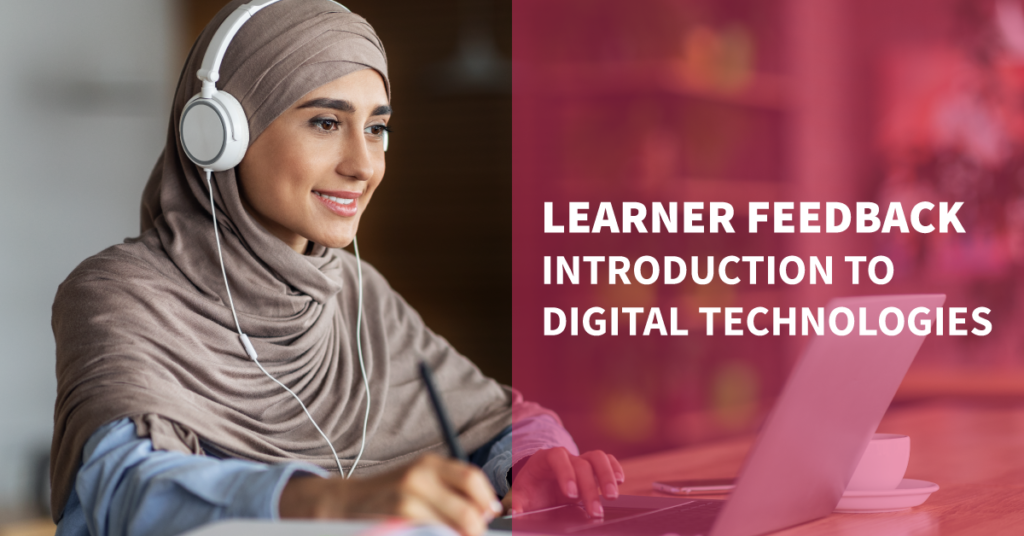 The online 'Introduction to Digital Technologies' qualification focuses on providing learners with key IT, digital marketing and employability skills to prepare them for a digital career. This 3-week course comes at no cost and is available for those who are 16+ and currently unemployed with an interest in digital marketing or IT.

Currently, we are offering this course to those living in the Greater Manchester and South Yorkshire areas.

What to expect
Learners will join an online session and be taught live by a tutor. Throughout the course, the tutor will be there to support you and ensure you are working to the best of your abilities.

Since we began delivering this qualification, we have received a great amount of positive feedback from our learners. This course has furthered their interest in the digital field and provided them with a head start in their careers.

Here's what some of our learners had to say about their experiences:
Lucy Catherine Howell
"I applied for this course as I wanted to improve my skills and add to my knowledge of digital marketing that I have from studying graphic design.

During the course, I learned about how brands use key performance indicators when marketing digitally. I also learned how I can use these to benefit myself. Additionally, I learned a lot about networks and software. This is useful to me as the industry I would like to go into uses digital devices very often.

This course has helped me decide to go further into digital marketing and using digital avenues in a creative way."

Amy Fryer
"I applied for a digital marketing apprenticeship on the GOV website and received a phone call from Back 2 Work asking if I was interested in taking this course. All the information sounded great, knowing I would gain digital marketing knowledge, CV knowledge and interview knowledge.

From this course, the most important skill I have developed is my IT Skills. I took Computer Science as a GCSE and so I knew some of the basics. However, this course went into more detail and I gained extra knowledge such as SEO. Although confidence is more of a strength than a skill, I have definitely gained more confidence doing this course. I nearly did not join this course on the first day because of my lack of confidence, but I am really glad I did. The interview especially has really helped with my confidence and has reassured me that I am capable of interviews.

The bit I enjoyed most was developing my digital marketing skills. I knew that I wanted a career in the media industry however I did not know which route to go down and so I came into this course knowing very little about digital marketing. Now I have completed this course, I am definitely going to consider going down the digital marketing route."

Jamie Radcliffe
"I was actively seeking to go onto an apprenticeship and this was perfect to get into that and gain some pre-apprenticeship knowledge.

I have learned valuable knowledge about effective CV writing and interview tips. I've learned about market segmentation and how to work KPI targets as part of our presentation. As well as this, the course covered aspects of coding. A lot of things I had no knowledge of before this course.

Our tutor, Bayo, made the course fun and always made the material understandable and the course has definitely made me more confident that this is the area I want to pursue a career."

Dalila Seca
"I wanted to learn more about digital marketing and that is one of the many reasons as to why I decided to join this course. I enjoyed every single unit but one thing that I really enjoyed is the way class was delivered, my teacher Bayo is great, very informative, he provides excellent support and is always willing to help. I also enjoyed creating a campaign with my team members. We all shared ideas, it was great.

I have learnt a lot about digital marketing such as how to measure the success of your campaign. I also learned the types of software that is out there to support you when it comes to Digital Marketing.

It clearly peaked my interest in the digital marketing field. I would definitely recommend this course to others."

Corinne Hooley
"I have learned about the advantages and disadvantages of digital marketing, how to set up and configure a network and the principles of marketing. I have also developed safer digital habits online and have done some housekeeping on my social media account and improved my CV.

I enjoyed working in groups to plan a marketing campaign and creating a website. This course has made me more sure that I want to pursue a career in digital marketing."
---
Introduction to Digital Technologies
During this qualification, learners will be taught by an industry professional tutor and cover the following topics:

Identify Suitable Opportunities
Behaviours and Standards at Work
Produce a CV
Succeed at an Interview
Team Working
Digital presence, awareness and safety
Digital Technology in the workplace
Introduction to Design and Development of Software
Introduction to Installing Computer Software
How to Set-up an IT Network
Key Elements of Digital Marketing
Principles of Marketing
This course provides learners with a certificate upon course completion and helps them to kickstart their career in digital.