Choosing your career can be daunting. The job market presents a range of opportunities and you want to make sure the one you decide on, is the best decision for you. If you're interested in digital marketing, you'll be in a position where you want to find out more about a career in the field and if you're going to enjoy it.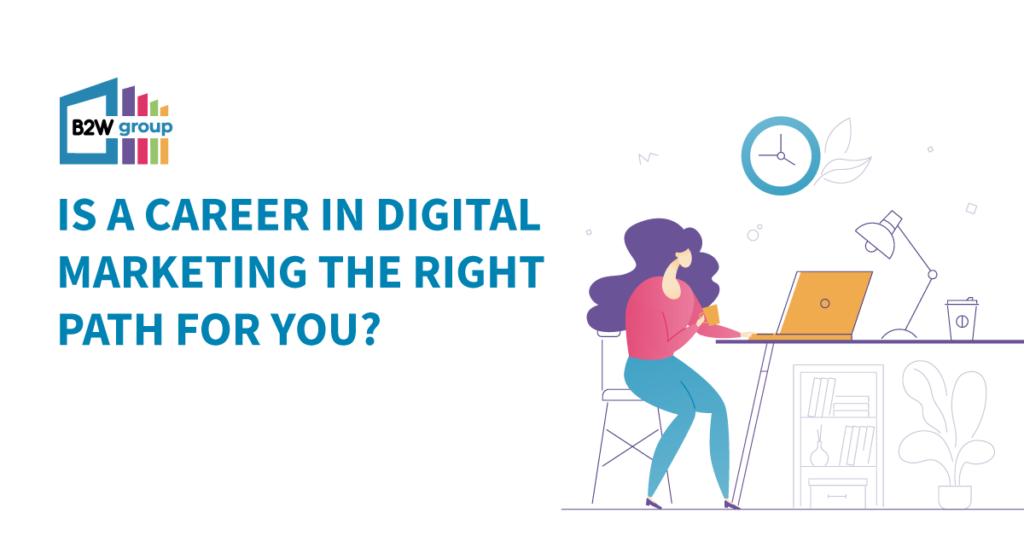 The B2W Group offer a Level 3 Digital Marketer Apprenticeship in which learners will learn whilst they work within a business environment. It's a great option if you want to have a head-start in digital marketing. But first, what is digital marketing and what can you expect from a career in it?
Digital Marketing
Digital marketing is the marketing and promotion of products and/or services using digital technologies and tools such as social media, display advertising and content marketing.

Usual tasks expected of a digital marketer include:
Search engine optimisation
Website management
Social media management
Graphic design
Content writing (product descriptions, blog content etc)
Email campaigns
Reports and Analysis
Paid social campaigns
Paid search campaigns
Branding and Brand Management
Is there any progression in digital marketing?
This career path could begin as a digital marketing assistant or executive, followed by a digital marketing and analytics manager. With enough experience behind you, you could become the head of digital marketing.

One of our current digital marketer learners, Sian Morton, speaks about her progression within the company she works with:

I am progressing very well within my role, taking on new responsibilities and being one of the faces of the company in regard to events and pitches. With the skills that I have gained from some of the modules I have learnt about, this has made it easier to fulfil and add value to the company."

The benefits of a digital marketing career
1. More career choices
Digital marketing covers a wide range of skills. If you want to go into a specific role later down the line, you will have more options. For example, you might find you really enjoy social media management and only want to focus on that.
2. Get to be creative and experimental
You'll be able to showcase your creative side when creating content and campaigns for the company you work for.
3. Continuous learning
With technology always changing, this role will allow for continuously learning.
4. Be in demand
Think about how rare it is for a company to have a website or not have a social media profile. Companies need to be in the digital age to stay on top of competitors and ensure they're reaching their audience, which is why digital marketing is in demand.
The qualities of a digital marketer
If you're wondering if you will fit in with a digital team, here are some of the qualities and traits that are sought after in a digital marketer:
1. A passion for Learning
As mentioned before, this role will come with continuous learning, so it's vital that you want to develop and learn.
2. Communication skills
You are more than likely going to be working collaboratively with your own team or other teams within the business. You need great communication skills to ensure tasks are getting done correctly and efficiently.
3. Strategic and Analytical Thinking
As part of a marketing team, you'll need to think about processes as a whole. When you're planning marketing campaigns, you need to be able to think ahead and be strategic with your planning. What is a suitable budget? What're the best times to do this? You also need to be able to analyse results for future improvement of campaigns to get the most out of your marketing budget.
4. Being creative
This is an essential trait; a digital marketer needs to be creative to stand out from the crowd and gain the attention of their target audience.
If after reading this you think you'd be a great fit for a career in digital marketing, you can find out more about our Level 3 Digital Marketer Apprenticeship here. If you want to see what current live vacancies we have, you can apply here.