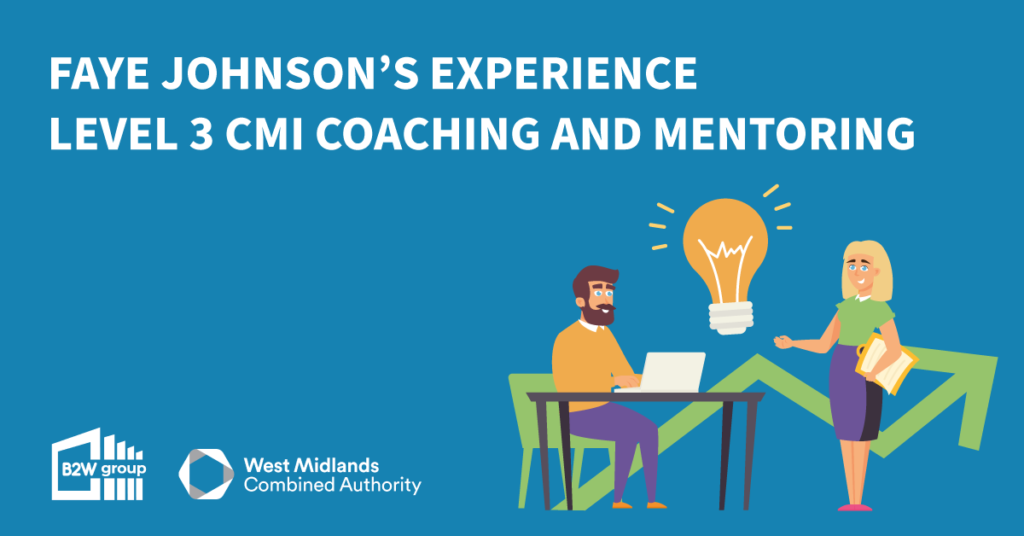 Faye Johnson recently completed the Level 3 CMI Coaching and Mentoring qualification with The B2W Group, a qualification that is a part of our distance learning provision.
CMI Coaching and Mentoring
This level 3 qualification is a great educational route for supervisors and first-line managers. It supports the development of coaching and mentoring skills and improving on the development of individuals and teams.

Management roles face constant change, with new technologies and rising customer demand. A company relies heavily on the ability of a management team. Successfully coaching and mentoring your team could mean the difference between business success and failure.

Faye Johnson
Faye is a Employability Coach at St Basils, a charity organisation based in Birmingham that aims to help young people find and keep a home, grow their confidence, develop their skills, increase opportunities and prevent homelessness.

Faye was interested in the online Coaching and Mentoring qualification for personal development. As our online courses focus on progression in the workplace, these are a great opportunity to develop your skills and knowledge.

We spoke to Faye to learn more about her experience on the course.

What did you enjoy most about this course?
I enjoyed how much knowledge the course provided. Additionally, I liked that the tutor displayed passion.
What new skills and knowledge have you learned?
I didn't really know the difference between coaching and mentoring before I started the course! I've learned so much it's hard to identify all of the learning, but I am now able to distinguish between coaching and mentoring, explain the role of the coach and mentor and how a session of either might look like. I also learned about smart targets and their benefits and the grow and achieve models. The list really does go on!
Did you find that the course met your expectations?
I believe that the course exceeded my expectations. I found that it was challenging enough for me and gave me valuable knowledge.

How has this course helped you progress in the workplace?
I am going to use the knowledge and techniques that I have learned during this course and apply them within my role. This has helped me to improve my coaching and mentoring, which is important in my role as an Employability Coach.

Would you recommend us to others?
When learning with The B2W Group, I found that the service was friendly yet professional. I have already recommended the organisation to my colleagues at St Basils.
---
Level 3 Coaching and Mentoring
Our fully online CMI Coaching and Mentoring qualification is available to employed residents of the West Midlands area. This course is fully funded and comes at no cost. Find out more about this distance learning course through our website.