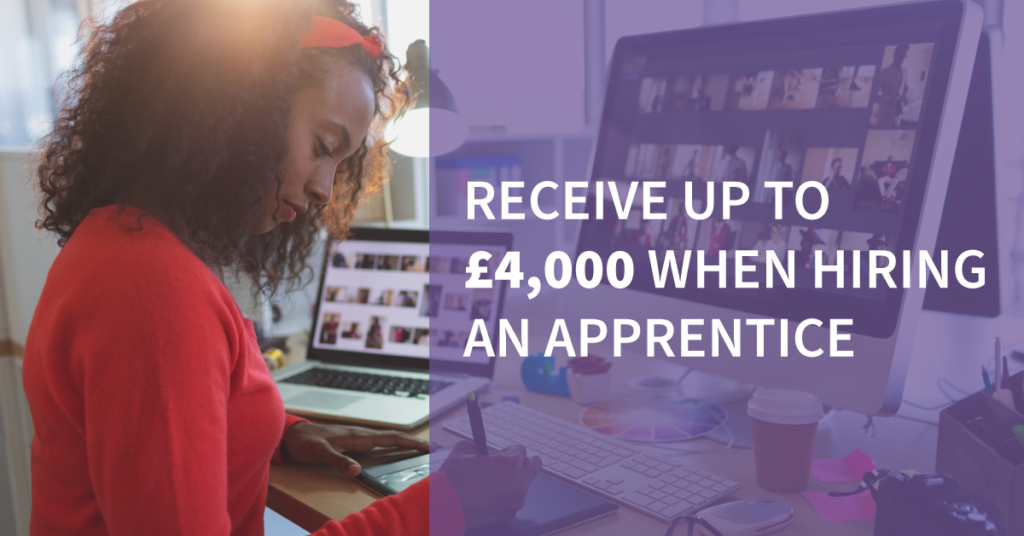 Announced on 3rd March and in effect since the 1st April, employers can now benefit from an extension of the existing apprenticeship scheme alongside further cash incentives. Employers who hire an apprentice before 30th September 2021 will receive up to £4,000.

During the announcement, Chancellor Rishi Sunak said: "The education secretary and the work and pensions secretary are taking action to give people the skills they need to get jobs or get better jobs. The Restart programme is supporting over a million long-term unemployed people, the number of work coaches doubled, the Kickstart scheme funding high-quality jobs for over a quarter of a million young people, the prime minister's Lifetime Skills Guarantee, giving every adult the opportunity for a fully funded level 3 qualification."

For employers considering bringing a new member into the team, you will now be able to claim up to £4,000 per apprentice. This aims to support employers and helps out those who are unemployed and looking to gain the right skills to kickstart their new careers. This new incentive will be running until 30th September 2021.

£3,000 per apprentice
Employers hiring an apprentice from any age will be able to claim £3,000 per apprentice until 30th September 2021.

£4,000 per apprentice
Employers hiring an apprentice aged 16 to 18 and those under 25 with an Education, Health and Care Plan will be able to claim £4,000 per apprentice. This is made up of the new £3,000 incentive plus the existing £1,000 that is already in place. Employers will be able to claim this until the 30th September 2021.

Association of Employment and Learning Providers chief executive Jane Hickie stated:

"The extension of the apprenticeship financial incentives until the end of September could be a game-changer and the increase in the incentives should prove to be particularly attractive to smaller businesses who have traditionally offered apprenticeship opportunities to young people. The incentives now subsidise over half the cost of employing an apprentice at entry level, which is what AELP has been calling for since the start of the first lockdown."

Why Hire An Apprentice?
Hiring an apprentice brings fresh talent into the business. It helps your new team member to build their skills and knowledge to advance further into their chosen career. Apprenticeships usually take 12-18 months to complete. This provides a suitable amount of time to learn the new skills needed for their role. For those who completed an apprenticeship, 97% said their ability to do the job had improved.

We're so confident in their value, that last year we brought six Digital Marketing Apprentices into our own busines. They help to cover website & social media management, blog writing, email campaigns, paid advertising, report writing, and administration.

Dave Bailey, Head of Marketing at The B2W Group, commented "Each and every one of our Digital Marketing Apprentices has come to us with a 'go get' attitude. They have, within a short space of time, helped us to make positive changes and contributed to our overall digital marketing."

 Read more about Why Your Marketing Team Needs an Apprentice
Level 3 Digital Marketer Apprenticeship
The B2W Group specialises in the Level 3 Digital Marketer Apprenticeship in the South Yorkshire and Greater Manchester areas. During this qualification, the apprentice will learn marketing principles and how to undertake online campaigns across a variety of popular social media platforms. This includes Facebook and Twitter and increasing website visitors via SEO and PPC campaigns. The B2W Group provides two pathways to provide a more personalised experience to the learner and employer.
---