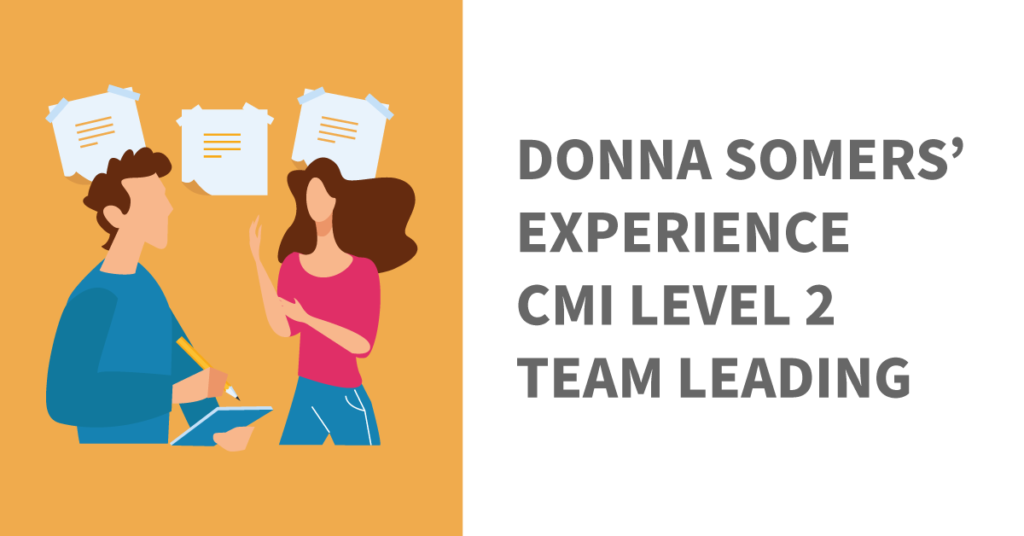 Donna Somers, who works at Stonegate Pub Company in Birmingham, enquired about our CMI Level 2 Team Leading when she was searching for a way to gain the required skills to progress within her career. Since completing this online qualification, she has been promoted to a Team Leader and been able to put her new skills into practice.

CMI Level 2 Team Leading
Our Team Leading qualification is for individuals wanting to develop their knowledge and understanding of being a team leader. This includes planning, allocating and monitoring work for those they are responsible for, as well as giving appropriate feedback and briefs to team members.

It covers important aspects and prepares learners for difficult situations such as managing conflict and resolving problems.

Chartered Management Institute
The Chartered Management Institute (CMI) is the Chartered Body for Management and Leadership. They provide bespoke qualifications that focus on building the futures of ambitious leaders and managers.

Donna's Experience
After successfully completing the Team Leading qualification, we caught up with Donna to find out more about her experience.
What made you want to take part in this course?
I wanted to complete this course to help gain new skills and knowledge so I could have the chance to further my career.
What did you enjoy most about this course?
The skills it taught me about leading a team that I would have never thought about without the help of this course.
What new skills and knowledge have you learned?
The qualification has taught me to have self-belief and confidence within myself to successfully lead my team to work effectively and efficiently.

Did you find the course was challenging enough?
At times I found the course could be difficult, but one call or email to my tutor and they would talk me through the units and I was back on track.

How has this course benefitted your role?
Since completing the course I have been promoted to a Team Leader and am now responsible for leading my own team. Additionally, my managers have been able to see growth in me.
Would you recommend us to others? If so, why?
Yes definitely. I found that the course met my expectations. Six months ago all this was a dream but thanks to my tutors at B2W group it is all now a reality.

---
Level 2 CMI Diploma in Team Leading
The CMI Level 2 qualification in Team Leading is designed for practising or aspiring team leaders who wish to develop their team leading skills and knowledge. The ideal starting point for your career journey. This course is fully funded to employed residents of the West Midlands area and is completed online from the safety of your own home.
Read more from our learners