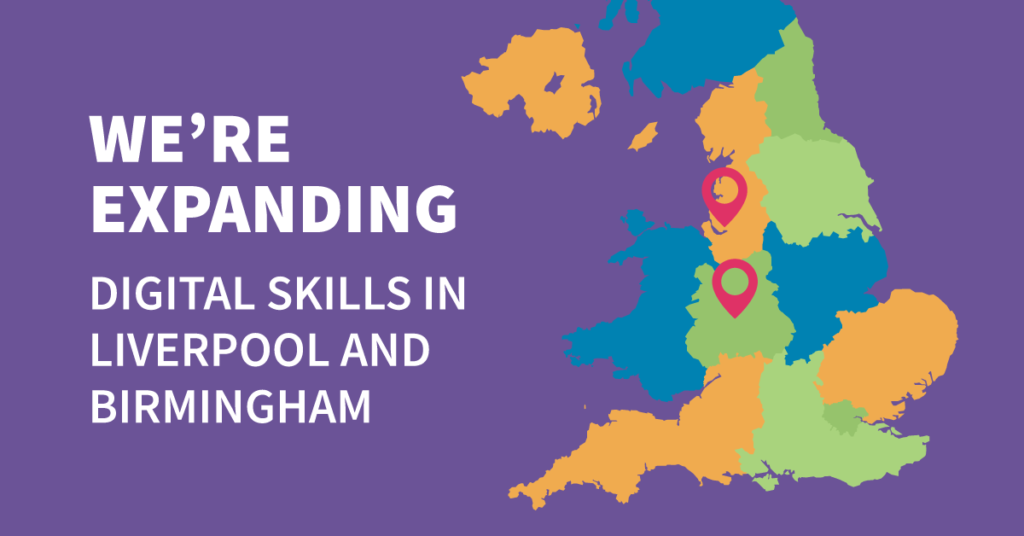 Due to the success and demand of our Pre-Apprenticeship Training qualification, 'Introduction to Digital Technologies', we are excited to expand our course delivery to the Liverpool and Birmingham areas.
Introduction to Digital Technologies
Suitable for those wanting to pursue a career in digital, this qualification provides intensive knowledge in key subject areas including digital marketing, IT, and employability skills. It gives learners a headstart in their career and demonstrates their competence and dedication to future employers.

How does it work?
The course is completed fully online within three weeks. Learners attend live sessions with an industry-professional tutor, allowing them to gain all of the support they need and keeping them on track to successful completion of the course. Lessons take place from Monday-Friday each week and consist of the following topics:

WEEK ONE
Behaviours and Standards at Work
Digital Presence, Awareness and Safety
Digital Technology in the Workplace
Identify Suitable Opportunities
WEEK TWO
How to set up an IT network
Teamwork
Introduction to Design and Development of Software
Introduction to Installing Computer Software
WEEK THREE
Produce a CV
Key Elements of Digital Marketing
Principles of Marketing
Succeed at an Interview
Choosing the right path
When it comes to choosing which career path you would like to pursue, it's easy to become overwhelmed. You may feel yourself wanting to make sure that the career is definitely the right choice for you. This qualification allows you to get an understanding of what is involved in a digital career such as digital marketing. As it's a three week course, it isn't a long and scary commitment. And once completed, you will have a better idea of if a digital career is right for you. Whatever you decide, The B2W Group will be there to support you.

Progression
We will help you with your future progression. Graduates from our most recent courses have already been guided into apprenticeship opportunities, with many others securing relevant, full time employment with household name brands such as Age UK and B&M.

What our learners say
Lucy Catherine Howell
"I applied for this course as I wanted to improve my skills and add to my knowledge of digital marketing that I have from studying graphic design.

During the course, I learned about how brands use key performance indicators when marketing digitally. I also learned how I can use these to benefit myself. Additionally, I learned a lot about networks and software. This is useful to me as the industry I would like to go into uses digital devices very often.

This course has helped me decide to go further into digital marketing and using digital avenues in a creative way."

Jamie Coulthard
"I really enjoyed working with the group and getting to know some new people. Bayo and Sundas have been excellent throughout the course and I have enjoyed gaining more insight into the background of digital marketing."

Millie Wallace
"I have learnt a lot of new skills, such as IT skills on how to set up a network and how businesses function within teams. It has made me realise that I want a career in digital marketing mainly with social media campaigns."

Eligibility Criteria
This course comes at no cost to learners that meet the eligibility criteria. We require learners to be aged 16 and over and currently unemployed. Those applying for the Introduction to Digital Technologies qualification must be residents of the Greater Manchester, South Yorkshire, Merseyside, or West Midlands areas.

During the initial phone call with our Learner Engagement Advisors, we will double check your eligibility to confirm that you are eligible for the qualification.
How to apply
If you would like to find out more about expanding your digital skills, please visit our Introduction to Digital Technologies page.