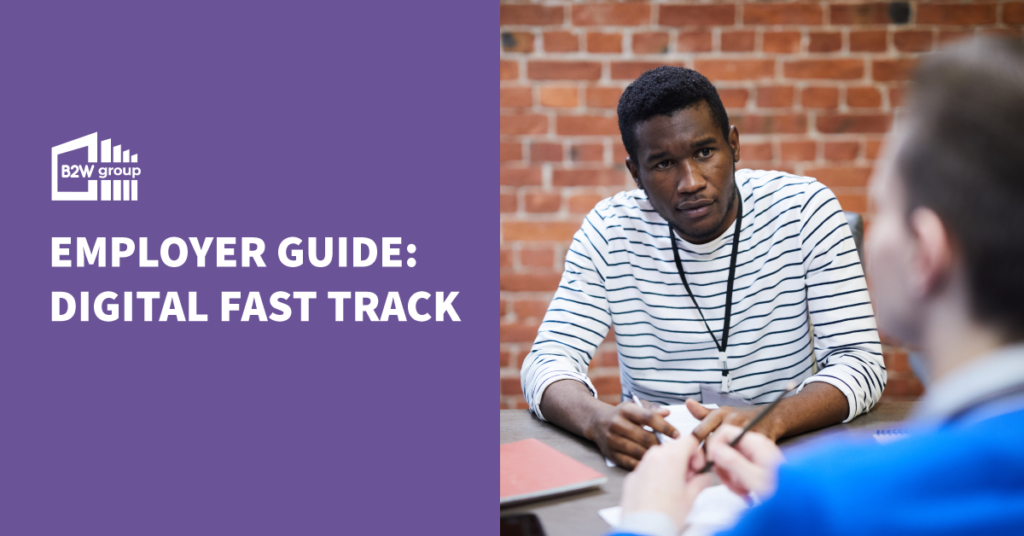 The Digital Fast Track not only prepares learners for a role in digital, but also allows employers to see the benefits of hiring an apprentice through the work experience placement.

The course provides learners with real experience and the 'Introduction to Digital Technology' qualification. Learners will spend 9 weeks gaining valuable digital and employability skills. This includes a work experience placement to utilise their skills and knowledge.

Why work placements can support your business
Supporting your digital teams
The work placement will help to support your team with their existing marketing or IT related tasks, freeing up time for your employees. The learner will also be able to support you with administration tasks.

Increase employee morale
As your existing employees will be able to free up time, they will be able to focus on other tasks such as exploring new marketing methods or improving existing campaigns. Furthermore, you will also be able to improve your employee's supervisory and team leader skills as they will be helping to support and guide learners with their projects.

Bring in fresh ideas
Work placements allow you to bring in young and fresh talent that can incorporate new ideas into your marketing strategy. As they also learn about digital marketing principles before they start their placement, they will be equipped with new skills and ready to support your team with new marketing ideas.

As well as this, young people have grown up in an environment with ever-changing technology and have quickly adapted and experimented with the changes. For example, if you're unfamiliar with an area such as TikTok or Snapchat and want to give it a try as part of your marketing activity, they may be able to provide you with knowledge on how to use the platform as well as current trends. This is especially handy if you want to branch out and target young people, as they will be part of that demographic.
How does the Digital Fast Track work?
The learner will be up-skilled by The B2W Group for five weeks Monday-Friday, and then a further two weeks Monday-Thursday with Friday being allocated to the work experience placement with you. They will then spend an additional 2 weeks minimum on the work experience placement to utilise their knowledge and skills and deliver your digital marketing project.

We will interview and select a suitable candidate through our Digital Fast Track candidate match service to provide you with a talented, digitally savvy 19-24 year old. They will have a real passion and skill for digital marketing. We'll then work with them to ensure that they deliver the maximum benefit to your business. This includes a website design project or a social media campaign, all designed to help you do more business.
Learner projects
Whilst completing their work placement, learners will work on projects so that they can showcase their skills. They will work with you to deliver a project that can benefit your business. Here are just some of the examples of projects they can deliver:

Plan and/or take part in the planning of a digital marketing campaign
During their training, learners will be taught how to research and plan digital strategies and campaigns. This will allow them to plan and implement a campaign that can reach your target audience. Additionally, they will also be able to analyse campaigns to measure effectiveness of campaigns.

Build your social media presence
Social media should play a key part in your marketing strategy. Learners will know how to create and build your online presence on suitable platforms such as Facebook, Twitter, Instagram and LinkedIn.

Create/update a company "Acceptable System Usage Policy" document for your company
GDPR is an extremely important area for businesses. The learner can work with you to identify the needs of your business and the expectations and requirements of your staff by helping to implement a workable security policy. This will help your employees understand the way in which digital information should be used. It will enable both your employees and the business to gain the maximum value from the internet.

Perform an IT security audit of your company network & recommend improvements to existing system
As part of their training, learners will be equipped with the knowledge to perform an information technology security audit with your authority and support. It could cover parts or the entire IT infrastructure including areas such as personal computers, servers, network routers, and switches.

Costs of the Digital Fast Track
As this is a work placement, there will be no payment to the learner or training provider. You will also be given 1,000 for each new work experience placement, up to 10 placements.

Supporting a future career
Working with The B2W Group to offer a work experience placement helps to kick-start a young person's digital career. Having real experience can make a difference when searching for a new role. It will put them ahead of other applicants during the early recruitment stages.
Level 3 Digital Marketer Apprenticeship
The Digital Fast Track gives you a feel of what it would be like to take on a digital apprentice. If you're unsure whether or not you will have the time to train an apprentice, the Digital Fast Track will give you a chance to experience it as well as show the benefits an apprentice can bring to your business.

If you choose to keep the learner on through a Digital Marketer Apprenticeship, we will be able to support you through the process.
---
Want to know more?
If you'd like to know more about the Digital Fast Track, you can visit our website and get in touch with our team here.