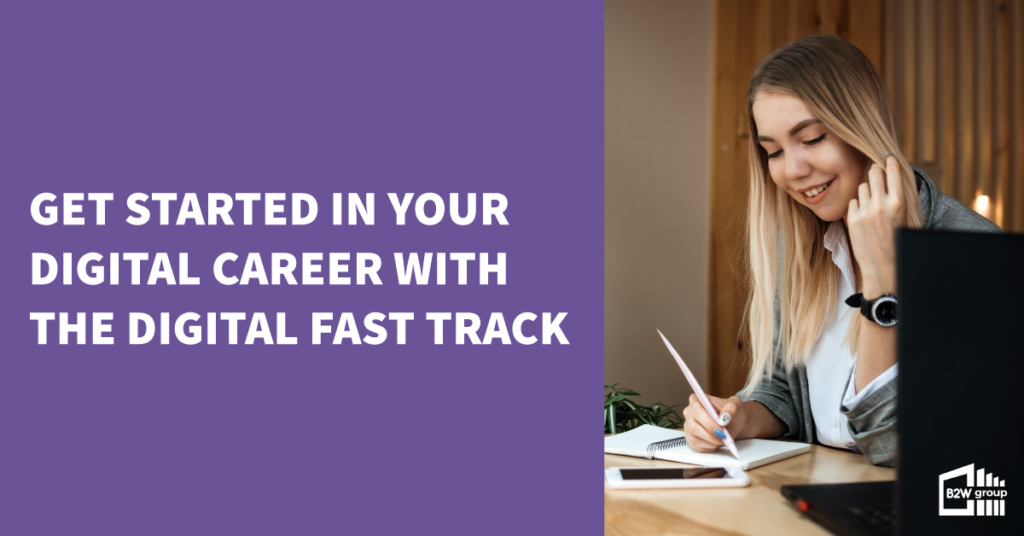 This year, The B2W Group introduced our Digital Fast Track course, which offers learners the chance to gain both a qualification and real experience with an employer. The Digital Fast Track aims to provide young people with the skills and experience needed to further their career in digital.

"The launch of our Digital Fast Track comes at the perfect time. The digital landscape is constantly shifting and these skills are now more vital than ever. We're proud to be able to deliver industry-leading training to young people in order to support them onto the first rung of their professional career ladder." – Dave Bailey, Head of Marketing

Recent figures show that almost 70% of learners taking a similar route get a job, take up an apprenticeship or go on to further study within 6 months of completing their programme. With further Government support and focus, more young people are able to take part in this qualification and gain the skills needed to start their new career.

What is the Digital Fast Track?
The Digital Fast Track focuses on providing you with digital skills, in particular teaching key digital marketing platforms and techniques that are used to promote a business online. In today's age, especially with the rapid shift to digital due to the pandemic, building an online platform is vital to businesses if they want to reach their customers.

Key topics include using social media for business, search engine optimisation (SEO), and building and implementing online campaigns. Other topics include digital technology in the workplace, digital presence, awareness and safety, networking and an introduction to design and development of software. Furthermore, you will gain employability skills to prepare you for the workplace.

Gain Real Experience
During the Digital Fast Track, you will also get the opportunity to work within a real team, helping with their online marketing. This can be a range of tasks and will allow you to get insight into how campaigns are built and implemented. The employer will support you throughout this and you will have the opportunity to shadow digital experts.

How Does the Digital Fast Track Benefit You?
This educational route provides many benefits, including getting a head-start by preparing you for a digital role. Here are just some of the benefits of this digital course:
Gain a recognised qualification
This pathway allows you to gain a real qualification which makes a great addition to your CV, as well as showing employers that you have the necessary skills for the role. The qualification will show that you have a varied skill set in not only marketing, but other digital skills.
Learn from experts
During the online classroom sessions, you will be taught by an industry-professional. As well as this, you will be placed with a team of experts that can guide you in your work-based project.

Get a feel for a career in digital
Before you decide if this is the right career choice for you, gaining experience with an employer allows you to truly experience a digital career. You will take part in a range of marketing activities with the employer, so you can understand what to expect if you were to further advance through an apprenticeship or employment.

Join an in-demand sector
Demand for marketing roles have seen a steady increase over the years. Since the start of the pandemic, the demand has only risen more. Year-over-year growth patterns evidence the highest growth in skills including Instagram (up 72%), content marketing (up 63%), creative problem solving (up 45%), brand awareness (up 41%), branding (up 41%) and Hootsuite (up 39%). Other fast-growing skills include Adobe Premiere Pro, marketing automation, customer experience and Facebook marketing (source).

Progress into an apprenticeship or full-time role
Once you have completed the Digital Fast Track, it will aid you in being able to further your learning through the Level 3 Digital Marketer Apprenticeship or securing a full-time role.
Who can apply?
The Digital Fast Track is available to anyone who is aged 19-24 and has an interest in digital marketing. Applicants must not currently be in full time employment or education. We offer the Digital Fast Track in a range of areas, including Greater Manchester and South Yorkshire.

---
Further Reading