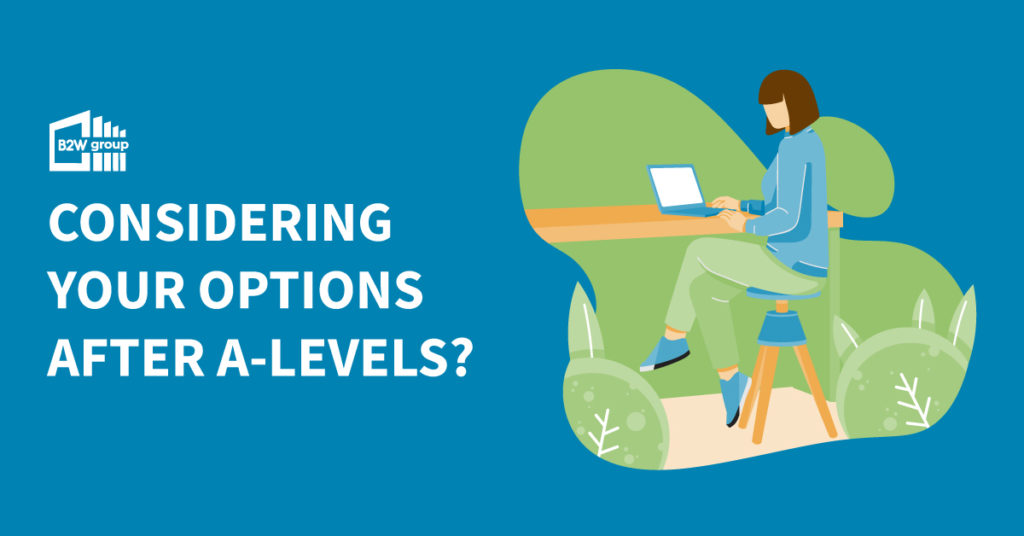 Today is A-Level results day. You've opened up your results and you're wondering to yourself, 'what do I want to do next?'.

Maybe you didn't get the results you'd hoped for, or you're having second guesses about your next steps. Either way – it's not too late to enrol onto an apprenticeship.

Many people consider just one option, which is the conventional option of going to university after college. That doesn't mean that it's your only option. Some people don't want to go to university and search for different routes such as apprenticeships. There are many misconceptions about apprenticeships that can put people off, but they are a valuable route to your dream career and they're worth considering.

If you're thinking 'but employers want people with degrees!', don't worry. Most employers value apprenticeships because they provide learners with real experience as well as a qualification. Not only that, there is a range of degree-level apprenticeships available which you can do if you want to further your learning in the future.
What is Digital Marketing?
If you think of yourself as a creative individual and love all things social and digital, digital marketing could be a great career choice for you.

The primary role of a Digital Marketer is to define, design, build and implement digital campaigns across a variety of online and social media platforms to drive customer acquisition, customer engagement and customer retention.

With such a wide range of skills and knowledge covered throughout the apprenticeship, you will have a number of options available such as:

Digital Marketing Assistant
Digital Marketing Executive
Creative Campaign Executive
Social Media Executive
Content Co-ordinator
Email Marketing Assistant
SEO Executive
Digital Marketing Technologist
Analytics Executive
PPC Specialist
What is the average pay for Digital Marketing for each sector?
For qualified digital marketers, the average salary of each sector is quite high, and you can even earn £50,000 per annum once you have the right amount of experience behind you.

| | | |
| --- | --- | --- |
| Industry/​sector | Average | Range |
| Retail, Wholesale | £42,500 | £42,500​-​£50,000 |
| Sales | £40,000 | £25,000​-​£47,500 |
| IT & Internet | £37,500 | £25,000​-​£47,500 |
| Marketing, Advertising, PR | £32,500 | £25,000​-​£42,500 |
| Media, New Media, Creative | £32,500 | £25,000​-​£42,500 |
| Recruitment Sales | £29,750 | £27,000​-​£42,500 |
| Education | £27,000 | £27,000​-​£33,143 |
| Graduate, Trainees | £25,000 | £23,000​-​£32,500 |
| Customer Services | £22,000 | £20,536​-​£24,500 |
Statistics sourced from TotalJobs (based on live vacancies for digital marketing)
Overview of the Digital Marketer Apprenticeship
The Level 3 Digital Marketer Apprenticeship is equivalent to 2 A-Level passes. You will gain real experience working for an employer whilst completing the apprenticeship, with 20% of the programme being dedicated to off-the-job training to learn new skills and knowledge. The programme will last 18 months and you will receive a certificate once you have successfully completed it.

Key Facts and Statistics About Apprenticeships
Nearly three-quarters of apprentices agreed that their chances of earning a higher wage in future had increased
80% of apprentices agreed that their chances of progressing to a higher level of training had also increased
90% of apprentices will get a job or go into further training after finishing an apprenticeship
78% of employers state apprentices improve productivity
83% of employers would also recommend apprentices to other employers
Source: Learners and Apprentices Survey 2018 report
You can find out more about our Digital Marketing Apprenticeship here.

If you want to see a list of our current digital marketing vacancies, you can apply through our website. We have a range of employers from different industries searching for new apprentices to join their team.