"Christmas can be a tricky time, even without the pandemic. The news tends to assume we all want to have this big Christmas with family. We are all different. For some, a small Christmas might be a blessing."
This page has information on: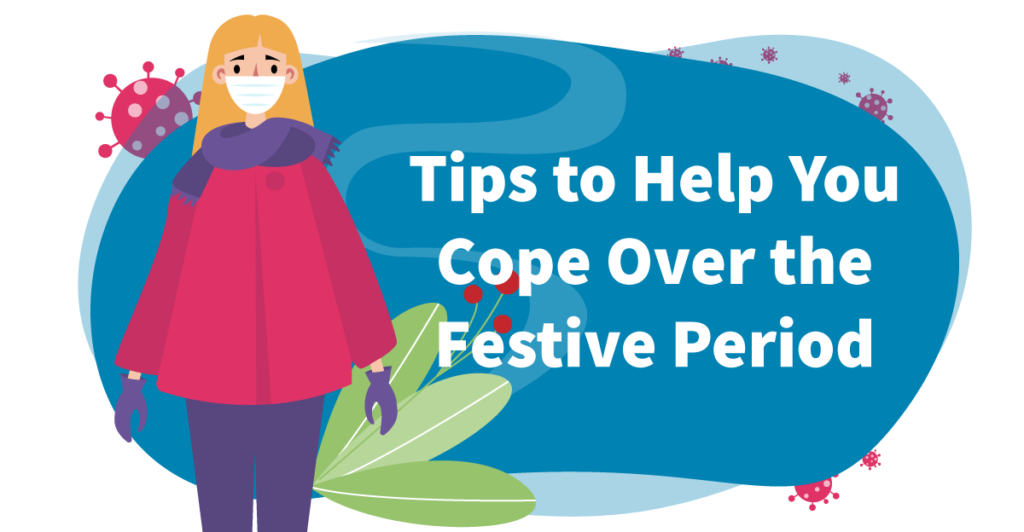 Difficult feelings about Christmas during coronavirus
Many of us may find Christmas difficult this year, for lots of different reasons. It might be that you usually enjoy the festive period, but you're worried about how coronavirus will affect things. Or you may have found Christmas tough in the past. This year might feel no different, or it may still feel harder than previous years.
If you often struggle with your wellbeing around Christmas, this information on why Christmas is hard may help.
Below are some common feelings you might experience about Christmas during the pandemic. You may also have many other difficult emotions that aren't recognised here.
Bereavement for loved ones
Christmas can be an overwhelming time if you are grieving. It can feel hard whether you've lost someone recently or a long time ago. This year might feel even harder if you haven't been able to grieve properly or receive the right support because of coronavirus. You may even have missed saying goodbye to people who died.
Christmas can have happy memories, like remembering a person's favourite Christmas song or TV programme. But it can also cause sadness, anger or regret. Your experience, and what helps you cope, will be individual to you.
See pages on bereavement for more information and ways to find support. Cruse Bereavement's page on facing Christmas without a loved one also has some tips to help you cope
Grief or disappointment for lost experiences
You may have missed out on certain experiences because of coronavirus. This might have been cancelling events like a holiday or wedding, or not being able to make changes in your life. These lost experiences can cause sadness and disappointment, and even feelings of grief.
If you can't have your usual Christmas, this might feel like another loss. For example, you may not be able to see people you'd like to or attend events which bring you joy and comfort. This may feel harder if there are lots of adverts and news stories about how coronavirus has affected Christmas. New Year may also cause similar feelings, if it makes you look back at what you've missed out on.
For some of us, the pandemic may also mean we will spend Christmas alone, or away from people we might usually see. Continue reading for tips for spending Christmas alone during coronavirus that may help with this
Frustration or feeling overlooked
Lots of us may feel angry or frustrated that Christmas is treated as a priority, but other festivals aren't. For example, you might feel overlooked if Eid, Diwali, Thanksgiving or Hanukkah aren't given the same public recognition or special government rules as Christmas.
You may also feel ignored by news stories or social media posts about the 'perfect' Christmas, and how that might differ this year. This might include assumptions about what Christmas is usually like, such as spending time with family. This may feel difficult if it's different from your experiences.
Pressure and expectations
You might feel pressure if people around you have different priorities over Christmas. For example, your friends or family may have different views about following health or travel guidelines. This may be stressful or upsetting, especially if you're asked to do things which make you uncomfortable.
You may also feel pressure to be around people you aren't comfortable with, or be in a place that makes you feel unsafe. This time of year is often especially hard if you have experience of abuse or trauma.
Mind's pages on abuse and trauma have more information, and links to organisations who can help. The charity Refuge also has advice if you may be experiencing abuse during coronavirus.
Stress and money worries
Living with uncertainty can feel stressful and tiring. For example, this may be knowing where we can go or who we can spend time with. This might also affect things like planning gifts, meals or travel.
For many of us, money may also feel tighter than usual this year. This might be because of redundancy or worries about how the pandemic may affect our income and finances. This may be harder if we also feel pressure to spend more. For example, if there is focus in the media on supporting the economy.
Wishing you could skip Christmas
You may wish you could skip this Christmas altogether. This may be because of coronavirus or other events in your life. And the idea of celebrating when there are problems in the world might feel like a waste of energy, or like it's in bad taste.
You may feel like coronavirus gives you permission not to bother with Christmas. This might feel like a positive thing. But you may also feel guilty or ashamed, for example if it means not seeing friends or family.
If you're experiencing any of these feelings, it is ok to feel this way. And there are lots of things you can do to take care of your mental wellbeing.
Ideas for celebrating Christmas during coronavirus
Some of us may feel disappointed that we can't spend this Christmas as we usually would. If you feel this way, the tips below may help you to enjoy Christmas during the pandemic.
Make a plan for your Christmas
It might help to make a plan for how you'd like to spend Christmas this year. This can include:
when you want your Christmas to start and finish
if you want to put up Christmas decorations, and when
if you want to send Christmas cards, or open them
whether to switch off TV adverts or social media, to avoid stories or messages about any parts of Christmas that you miss
any traditions or celebrations you'd like to preserve this year, and anything you may want to postpone or part ways with
anything that has helped you cope this year, which may help you get through Christmas. You may also have new ideas that you want to try to support your wellbeing.
Try festive wellbeing activities
If you want to mark the festive season and support your own wellbeing, these are some Christmas-friendly activities that you could try.
Some of these ideas may work for you, but not others. Try not to put pressure on yourself to do anything you're uncomfortable with:
Enjoy nature. If you can't get outside into nature, there are things you can do to bring it into your home. For example, you could watch a nature documentary about winter. Or you could find a live stream from a zoo's website of some penguins or polar bears.
Get active. You could take a walk to see if there are any Christmas lights or window displays in your local area.
Connect with people. You could try writing down your reflections on this year and sending it as a letter to people in your life, and ask others to do the same. This is sometimes known as a 'round robin' letter. You could send it out with Christmas cards, or share it over email.
Learn something new. Try to learn a new recipe or craft, or teach yourself about another religious holiday.
Find purpose and community. You may be able to support a local charity or Covid mutual aid group with a Christmas project.
Preserve and adapt traditions
If you have Christmas traditions which you enjoy, you may be able to adapt them to this Christmas. For example:
Instead of going to a Christmas carol concert or service, you could watch one on TV or join in with a virtual choir.
If you'd usually share a meal with certain people, such as friends or co-workers, you could plan to order delivery or cook and eat a meal at the same time.
If you have children and you usually take them to a Christmas fair or to visit Father Christmas, you could help them write a letter to Santa instead.
You might also want to introduce new traditions. This could be dedicating some time to remember a loved one. Or it could be taking some time for yourself, such as by meditating or writing in a journal.
Pause or postpone events
If there are events or traditions that you can't do this Christmas, it may help to think of them as paused rather than cancelled. You could make plans to postpone them until next year, even if they happen in the summer.
For example, if you were due to have a work Christmas party, you could suggest holding a summer solstice party instead. This could give you things to look forward to next year.
Part ways with things you don't enjoy
You might feel relieved that some parts of your usual Christmas may not happen this year. This may be a good reason to decide whether to stop these traditions in future. This could include where you spend your time, or who you spend it with.
For example, if you enjoy having a quieter, simpler Christmas than usual, you could give yourself permission to do the same next year.
This might feel difficult to do, especially if your Christmas usually involves other people. But making changes doesn't mean you've stopped caring about Christmas or your relationships. It's ok to find new ways to enjoy the festive period.
Be mindful of other people
You may plan to celebrate Christmas with other people in your life, such as with friends, family or co-workers.
If you are planning this, you could ask them whether they wish to celebrate Christmas, and how. And be aware of different people's experiences, and what they may be comfortable with.
These tips may help:
Be supportive of others who may not celebrate Christmas, or who do mark Christmas but also celebrate other festivals and holidays. They may have lost important moments this year too, for example religious festivals or events that happened during lockdown. Or they may prefer not to celebrate Christmas for many other reasons, including bad experiences in the past.
Try not to assume others will be comfortable or uncomfortable with your plans or ideas.
You can also talk to others about anything you may find difficult this Christmas, to help them understand how they can support you. For example, you could let them know any activities you would or wouldn't like to be involved in. And you could tell them any topics you'd prefer not to discuss.
Mind's page on being supportive to others at Christmas has more suggestions which may help.
Spending Christmas alone during coronavirus
Lots of us might spend Christmas day alone this year. This may feel tough if it's not how you would choose to spend the day, whether it's because of the pandemic or for other reasons.
The tips below may help to make the day a little easier. Some of them might work for you, but not others. Try not to put pressure on yourself to do anything you're uncomfortable with:
Focus on what you enjoy
Take some time to make where you live feel like a nice environment. This could be putting up Christmas decorations or extra photographs, or setting some time aside to tidy up.
Plan to enjoy your favourite food or drink on Christmas day. This could be a special breakfast or some interesting soft drinks. It could be a good excuse not to eat traditional Christmas food.
Spend the day doing things you enjoy. For example, this could be taking a morning jog, playing video games or doing puzzles. Or it could be having a hot bath with a good book, or a lie-in wearing your favourite pyjamas.
Connect with others
Connect with people. If there are people you'd like to speak to, you could arrange to talk over the phone or via video call. If you're worried about what to talk about, you could organise an activity to do at the same time. For example, this could be watching a film together or doing a quiz.
Go online. There are lots of ways to talk to people online, including with others who may be spending Christmas alone. Mind's online community Side by Side is a welcoming place to speak with others and share your experiences. And British comedian Sarah Millican hosts a Christmas day chat on Twitter each year, which anyone can join.
Engage with your local community. Some local events, like Christmas dinner meet-ups for people who are usually alone, might not be able to happen. But you may be able to find digital events organised for where you live. For example, this may be a live stream of a church service or virtual pub quiz.
Choose whether to celebrate
You may decide not to mark Christmas this year, and just treat it as if it's any other day. This may feel easier than trying to celebrate alone.
It's completely understandable if you feel this way. These are some ideas which may help:
Let others know your plan. It might help to say that you're happy to hear from them on Christmas day. But they can also support you by treating it like any other day and not mentioning Christmas.
If you are planning to give any gifts, you could exchange your gifts in advance, so you don't have to worry about it on the day.
Stay off social media and try to avoid adverts on TV or online. If you have any phone apps which might show Christmas content, you could turn off notifications for the day.
Eat foods you'd usually eat on a weekday, rather than traditional Christmas food.
Watch a TV series or film that isn't Christmas-related.
Do your usual housework and chores.
Go to bed at your usual time.
More information
If you're finding things hard during the coronavirus pandemic or struggling with your mental wellbeing, these pages may help:
---
Read the original article from mind here.
---
And as always, The B2W Group are here to safeguard our staff and learners over the festive period. For more information visit our Safeguarding page.