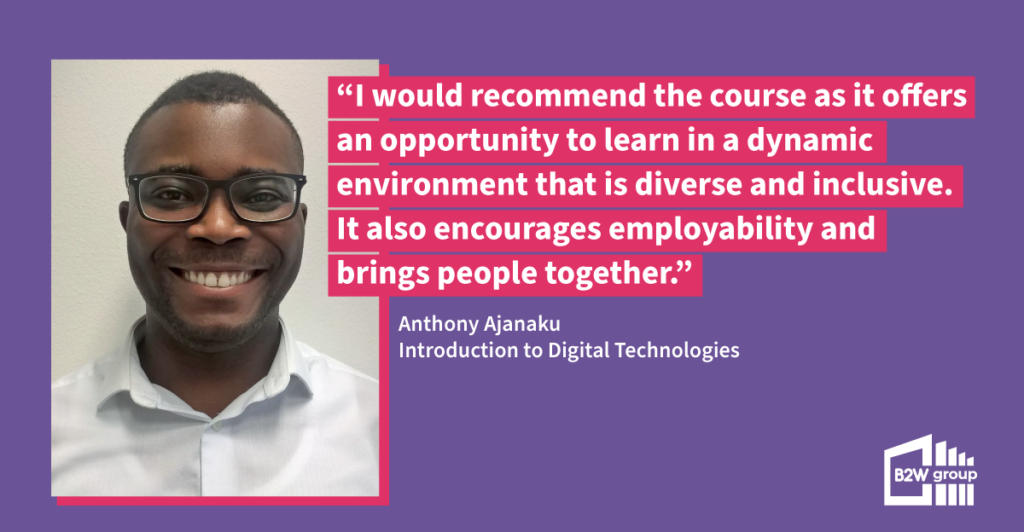 The B2W Group has a range of qualifications available designed to help those who may be unemployed and looking to gain new knowledge, skills and insights which can aid them into employment. One of these routes is our Pre-Apprenticeship Training programme, Introduction to Digital Technologies. This has already supported many learners into further learning or employment.

Digital skills play a vital role in today's society, and according to the Employer Skills Survey Report, employers stated that one-third of vacancies they find difficult to fill is partly due to a lack of appropriate digital skills amongst applicants.

Most employers will expect you to have experience with digital applications such as Excel, Word, and email clients such as Outlook. Digital Technologies covers this and much more.

To see the benefits the Digital Technologies qualification provides, we spoke to a recent graduate of the course, Anthony Ajanaku.

Anthony Ajanaku's Experience
What made you want to sign up for the course?
I am considering a career in Network Engineering and IT after expanding my knowledge of Digital Technologies. I want to expand my knowledge of Digital Technologies, and get into Network engineering and IT. I will be progressing to a Level 2 Diploma of Introduction to Digital Technologies to gain more knowledge.

What did you enjoy most about this course?
The collaboration and virtual environment gave me the provision to combine my day work with the course. The delivery pace is perfect, I can easily catch up should I fall behind. In addition to the reward of a free course, The B2W Group provides an amazing incentive to achieve success on the course.

What knowledge did you have about the subject before starting the course?
I had little knowledge of Digital Technologies before the course. My experience in the course gave me a lot of information that I can apply to real-life situations or to my job. Now I have gained a lot of information that I would like to apply to real-life situations or onto my job.

What new digital skills and knowledge have you learned during the course?
I have learnt the following digital skills and knowledge during the course:
Search Engine Optimisation
Marketing using digital means
Setting a LAN, configuring it, learnt about Networks
I would like to learn more and improve my digital skills.

What new employability skills have you learned during the course?
I have learnt how to write a modern CV. Additionally, I have learnt how to explore career opportunities and gained new interview skills too.

Would you recommend us to others?
Yes, I will, because the course offers a free opportunity to learn in a dynamic environment. That is diverse and inclusive. It also encourages employability and brings people together. Those who want to learn something new will also appreciate the rewards system. The reward system is also a unique selling point for anyone who wants to learn something new.

Also, both Lynn and Ray are brilliant Tutors. They are friendly and knowledgeable. They are happy to go over specific areas of the course at any given point. Kudos!
---
Interested in a digital career?
Whether you're interested in a role in IT or digital marketing, this funded course will provide a great opportunity for you to increase your knowledge and add to your CV.